A Red Egg and Ginger Party is the traditional Chinese celebration of a baby's one month birthday. The custom dates to ancient times when infant mortality rates were high and new babies were named and celebrated only after a month had passed and survival seemed assured. Thankfully, times are less perilous today and the tradition persists as a way for proud parents to introduce their new baby to family and friends.
The Date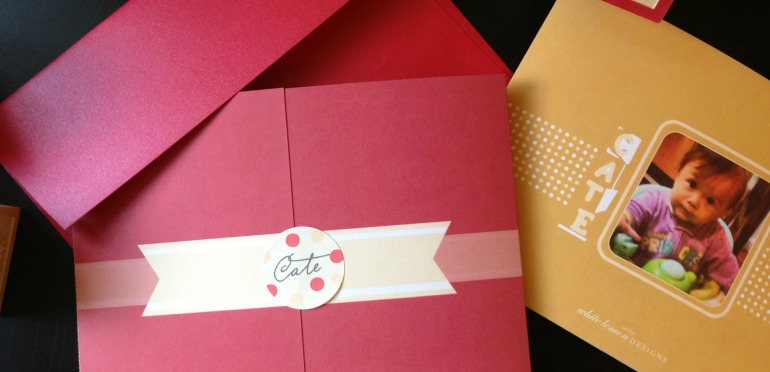 Red Egg and Ginger Parties traditionally occur soon after a baby's one month birthday. These days, families are more relaxed about when the party is actually held. It's increasingly common for a Red Egg and Ginger Party to take place at the 100 day mark. In either case, the spirit and intent remain the same: to welcome a new child among family and friends.
The Venue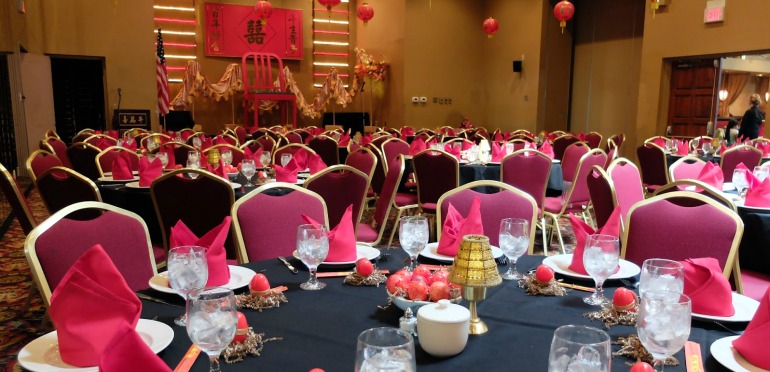 Check your invitation. Red Egg and Ginger Parties are typically held at a local Chinese restaurant, a community center assembly room or at home. Restaurant parties will likely include a multi-course banquet meal, while parties at a community center or at home will likely be more casual affairs with a buffet meal or desserts and coffee.
What to Wear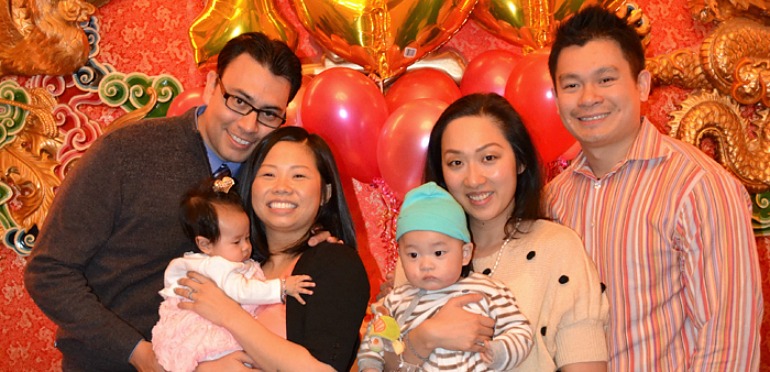 No shorts, no jeans, no ties, no dresses. Red Egg and Ginger Parties are celebrations, so wear festive attire. Members of the baby's family may dress up in suits, but guests typically arrive in casual semi-formal weekend wear. Red is considered the luckiest of all colors, so it's always appropriate. The only colors to avoid are black and white, which are typically reserved for funerals and mourning.
Red Eggs and Ginger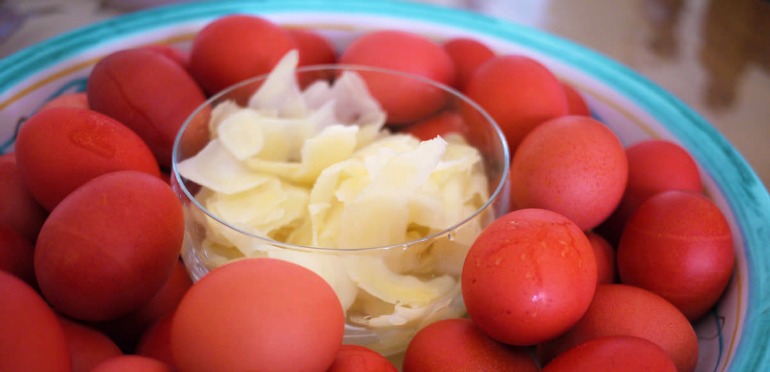 Guests are presented with red eggs, which symbolize luck and unity, and pickled ginger, which brings the body back into balance after childbirth. Plates of red eggs, an even number for a son and an odd number for a daughter, and ginger may be presented at each table or at the buffet line.
Food
If the party is held at a restaurant, expect to eat a traditional Chinese banquet meal including an appetizer of cold meats, soup, dishes with seafood, vegetables and tofu, lettuce wraps, noodles, fried rice and a dessert. At a more casual party, you may be served any of these dishes in a buffet line or food inspired by Red Egg and Ginger Party customs like cupcakes with red frosting, raspberry-ginger lemonade or egg-shaped sugar cookies.
Gift Giving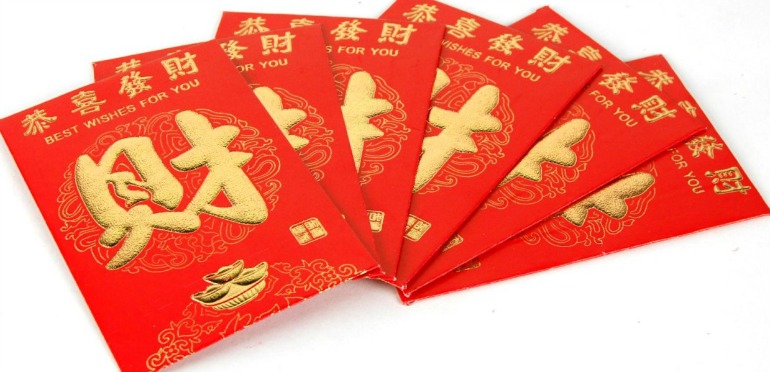 The most traditional gift is a red envelope filled with lucky money, which you give to the baby as it is introduced around the party. Most guests will give a red envelope and a physical gift, such as the ones listed in our Gift Ideas section, which is left at the gift table at the party entrance. Read my article for advice about how much lucky money to put in your red envelope and how to allocate a total dollar amount between a red envelope and a physical gift.
Customs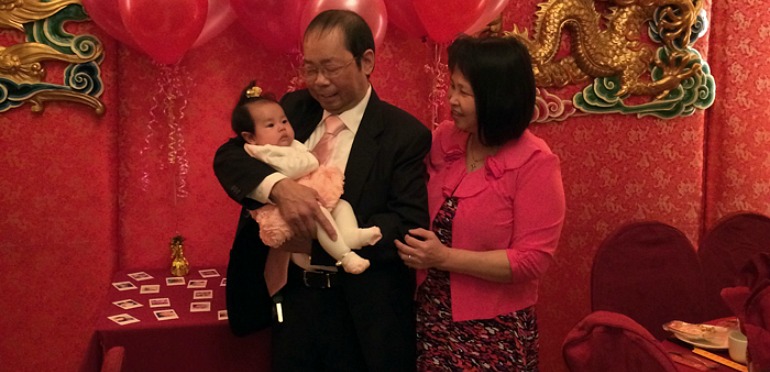 Red Egg and Ginger Parties are joyous events steeped in traditions intended to convey a life filled with good luck and prosperity on the new baby. Here are the different customs you may observe, depending on how traditional the host family is that day.
Introducing the Baby: The baby is the guest of honor at a Red Egg and Ginger Party. Whether sleeping or awake, the proud parents will introduce the baby around the room to friends and family. Well wishers may tuck or pin red envelopes filled with lucky money in the baby's clothing.
Reintroducing Mom: Despite the pressures of contemporary parental leave policies, many new Chinese mothers still observe the old tradition of "the sitting month." This month-long period of intense indoor confinement spent resting, drinking warm medicinal soups and avoiding harmful outdoor germs is intended to help new mothers restore balance to their bodies and regain their strength following childbirth.
A Celebration of Firsts: The Red Egg and Ginger Party may commemorate a series of "firsts" traditionally performed at home in the past. These may include the baby's first bath, the first haircut, the first new set of clothes and, most importantly, a new Chinese name. At one month of age, these ceremonies are performed to officially welcome the child into the family.
Announcing the Baby's Name: The Chinese believe that a baby's name influences his or her destiny and role in life. Traditionally, families would consult fortune tellers and a wise elder, such as the baby's grandfather, would be responsible for choosing an auspicious name. Today, it's common for families to share the baby's Western name at birth, but still wait to announce the child's Chinese name at the Red Egg and Ginger Party.
Cutting the Baby's Hair: It's an ancient tradition to shave a baby's head to commemorate the child's independent existence, as well as to stimulate new hair growth. Today, a grandparent may simply clip a lock of the baby's hair to store as a keepsake.
A New Set of Red Clothes: As red is the most auspicious color in Chinese culture, the baby is most likely to be dressed in a bright red play suit or dress to symbolize a lifetime of good fortune and prosperity.
Jingling Gold Jewelry: The baby may be adorned with a gold necklace or bracelet with charms or a locket, to symbolize longevity and good luck, while warning evil spirits away.
Toasts: At some point, the meal or party will be interrupted by the family for toasts thanking guests for coming and joining in their joyous celebration.
HT: Photos via El Brooklyn Taco, The Food Pornographer, Chu On Cakes, Karen Jacqueline Photgraphy and Simply Sarah Style.